30x on Smart Shopping
5x Better than Regular Shopping Campaign. Google's bid automation has been getting better for a long time. And now in some cases it's really become impressive. Two years ago you wouldn't have been able to convince me to give up our manual bidding process, but now...
Here's a brand new Smart Shopping campaign that's posting 30x ROAS. Compared to 6x for the standard shopping campaign. That's really something.
Tony Chopp Presents @ Digital Summit | Kansas City
CYS Founder Tony Chopp showing off recent campaign results at Digital Summit | Kansas City in May 2019
45% Increase in ROAS — Record High
2nd month on a new project. Tasked with increasing Return on Ad Spend. We delivered a 45% increase over their lifetime average, and a new record high mark at 516%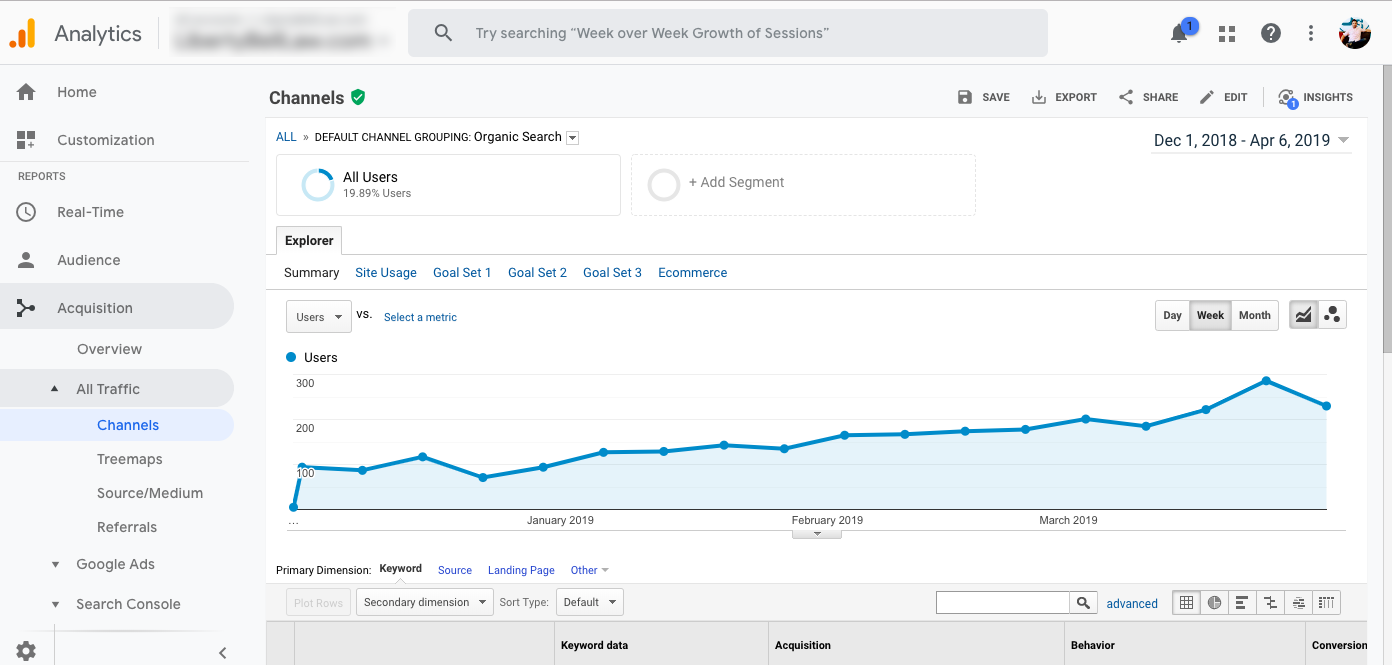 Organic Search Traffic Growth
This is what your organic search traffic graph should look like!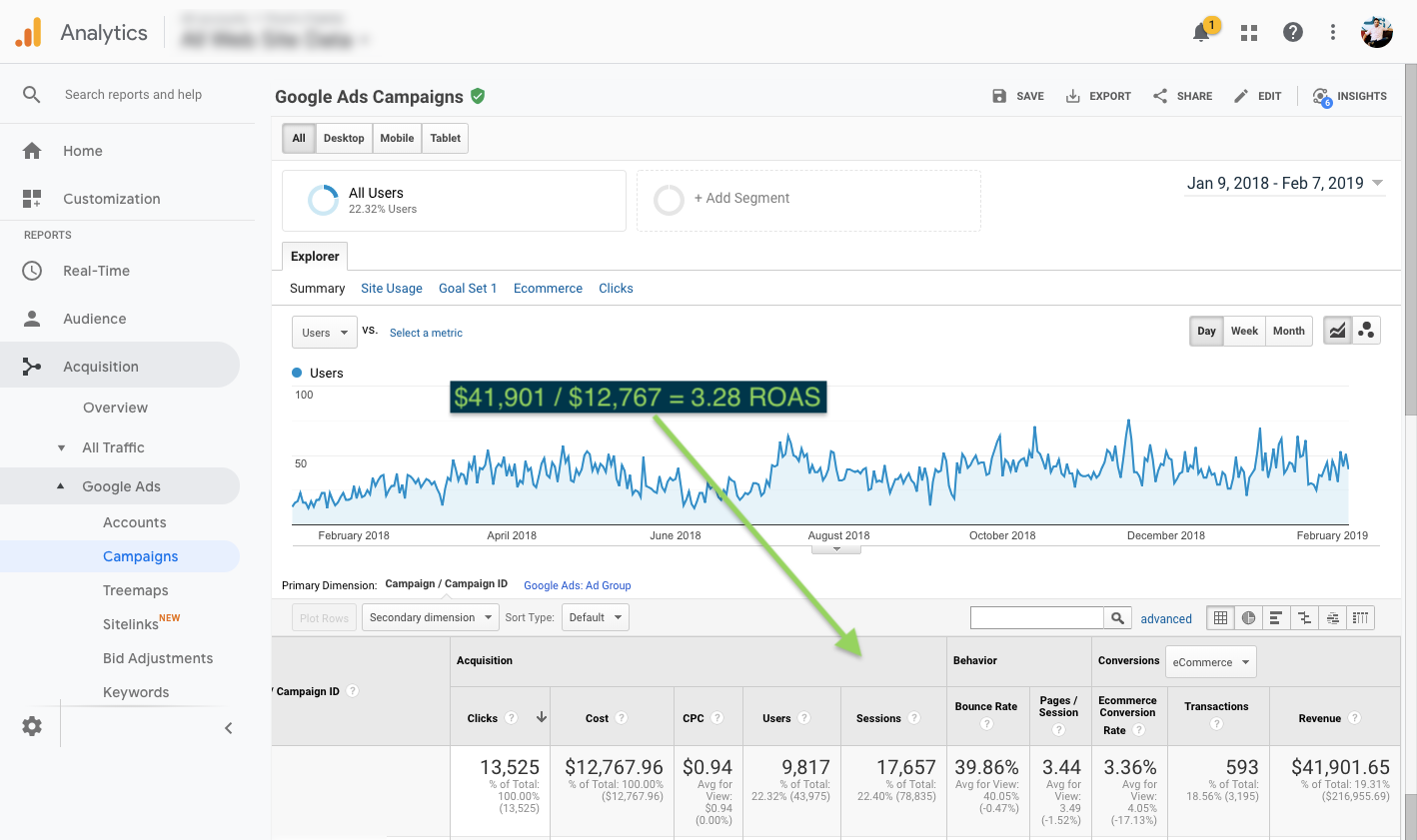 3.28 ROAS—$41.9k Revenue on $12.7k Spend, Over a Year
I love the 15x projects, but you don't win a baseball game with all home runs. We could probably get a 6-8x here by bidding 50-60% less. Although the net effect would be way less overall sales. In this case paid search is driving 20-30% of the overall sales for the store. Constricting volume for higher profitability is likely not the best choice.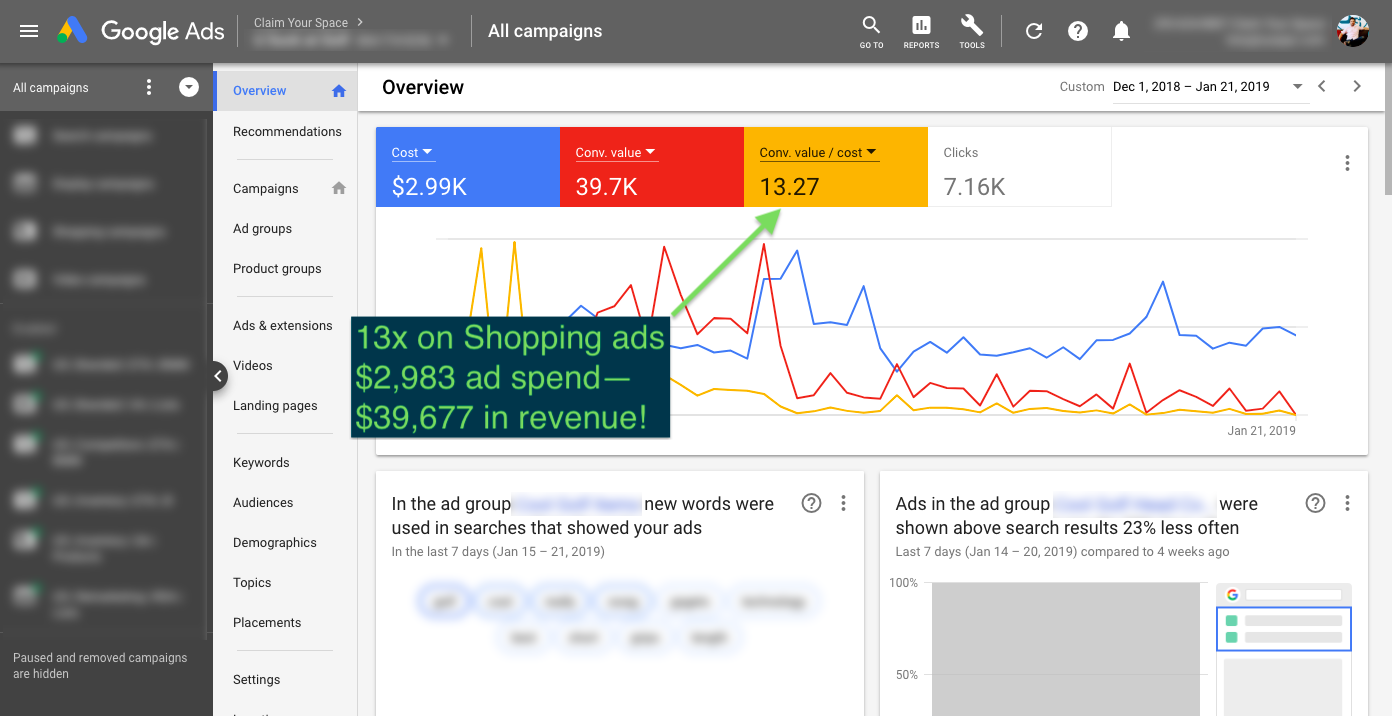 +13x on Google Shopping Ads Campaign—Oh My!
$2,983 ad spend for $39,677 in revenue. #BigROI
15x ROI is Possible
It's not uncommon that we measure a 10x return on Google Ads. 15x though—that's really something!
+74% Increase in Revenue Year-Over-Year
74% Increase in revenue year-over-year, 2017 to 2018, adding +$120k over 2.5 months.
CYS Wins "Best Use of Analytics" at IMPACT18
Taking home the trophy for "Best Use of Analytics" at the IMPACT18 digital marketing conference in Las Vegas this fall.
Team CYS Presents @ "Digital Marketing Recorded"
CYS Founder Tony Chopp has been invited to showcase our recent Google Ads results at this year's "Digital Marketing Recorded" conference in Las Vegas.
10:1 ROI
10:1 ROI my oh my! $795 in revenue on $72 in spend. And almost 18% CTR just for good measure!
$1,165,692.09
$1,165,692.09 invested across 48 Adwords accounts for CYS clients over the last year. Must be doing something right!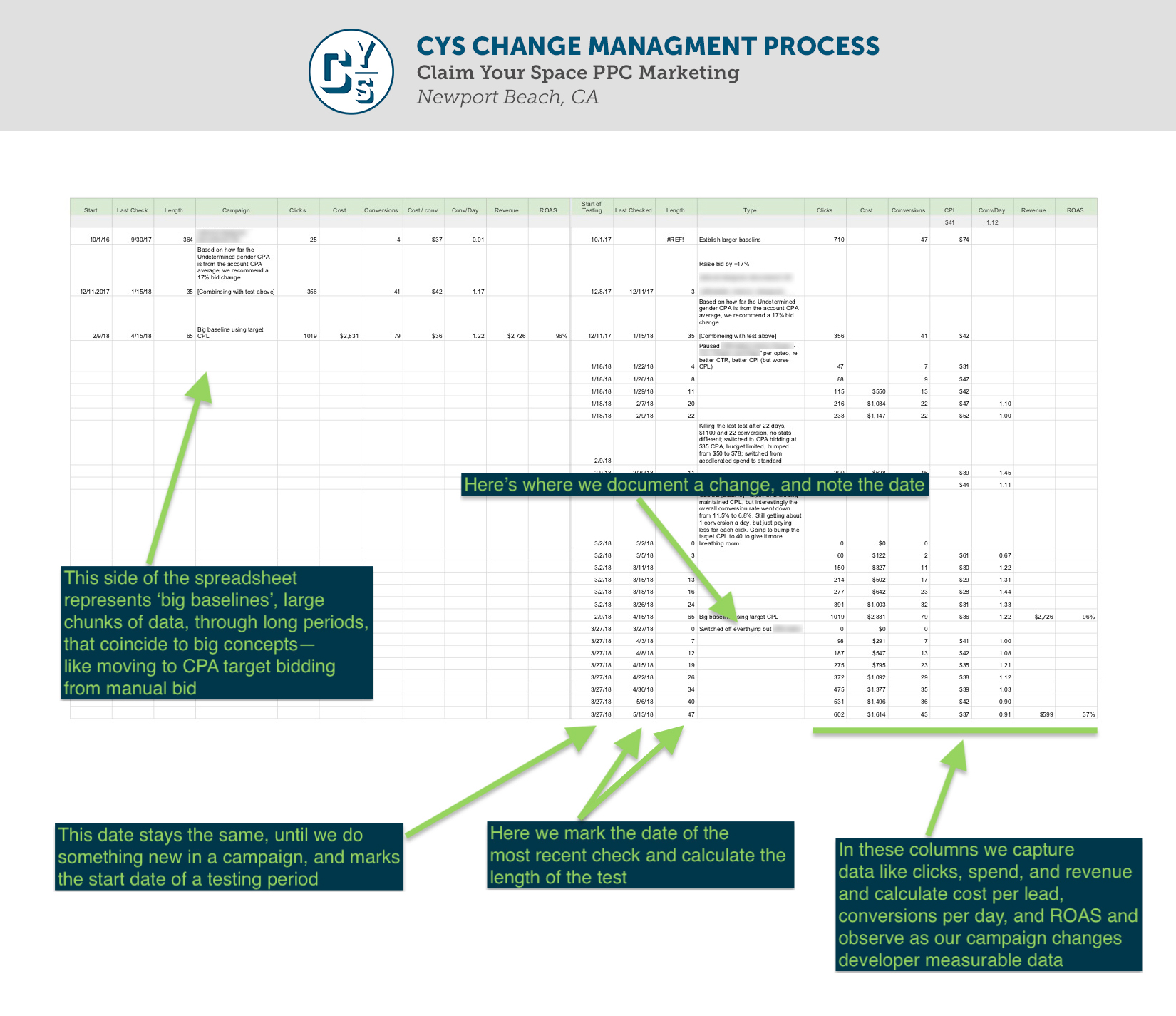 Tracking Changes Gets the Gains
We follow a process for optimization that helps us find the signal in the noise!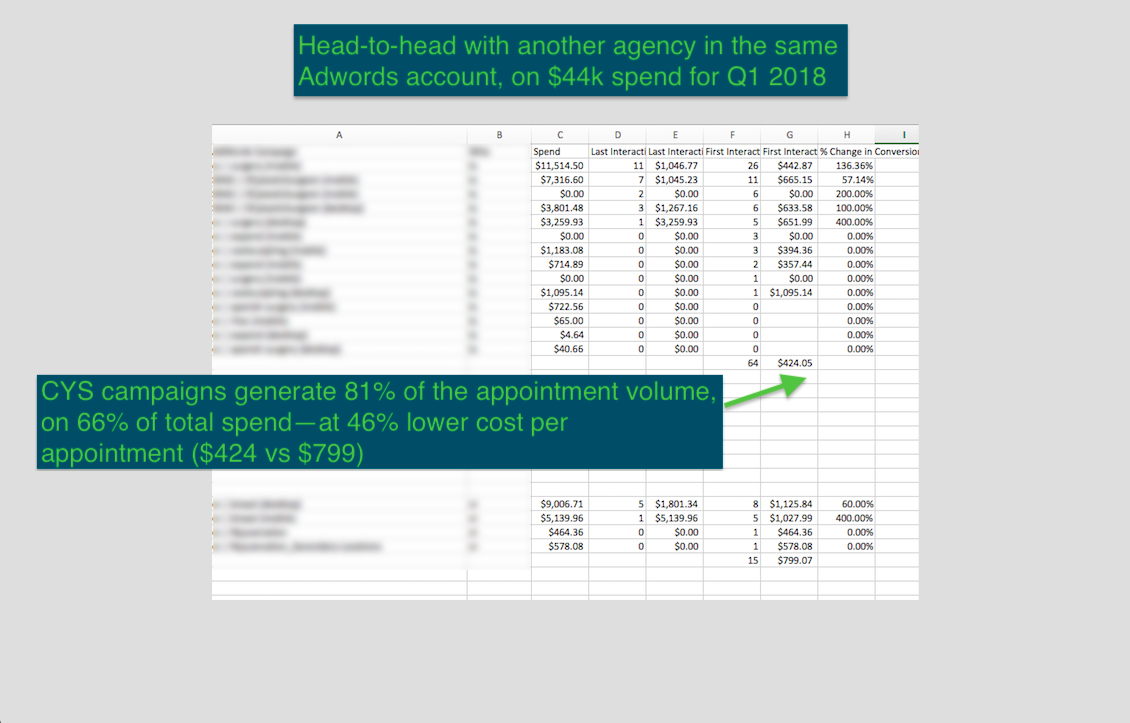 Head-to-head With Another Agency in Same Adwords Account
Head-to-head with another agency in the same Adwords account, on $44k spend for Q1 2018: CYS campaigns generate 81% of the appointment volume, on 66% of total spend—at 46% lower cost per appointment ($424 vs $799) #adwords
41% Reduction in Cost per Lead in 7 Months
CYS starts 9/1/17—cut CPL by 41%, from $85 to $50,
over 7 month period, with 5 out of 7 months setting record lows
along the way!
2017 CYS Highlights
2017 was a big year for CYS! We started 39 new projects, brought on 5 new team members and tracked A LOT of website leads for our clients.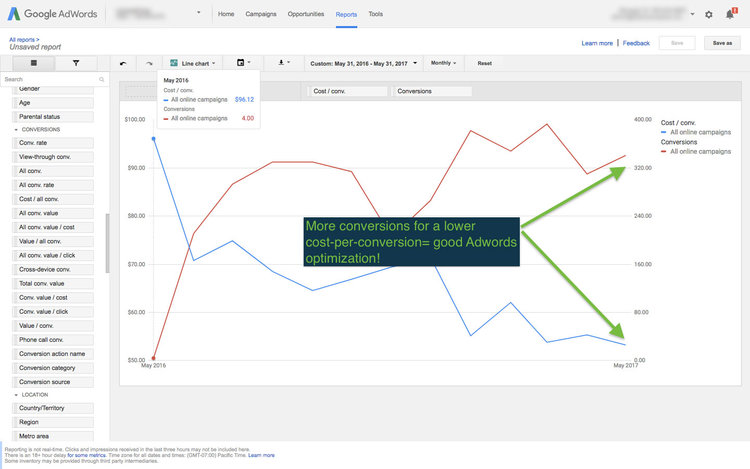 More Conversions for a Lower Cost-per-conversion = Good Adwords Optimization!
2x Conversions w/ On-Page Conversion Rate Optimization
After we get Adwords dialed in we always head to on-page conversion rate optimization. Here's a case where we were able to nearly double the total number of conversions over a 30 day period.
Record High Adwords CTR
Team CYS driving CTR improvements for 21 of 22 consecutive months and continuing to set new account records. This is a familar graph for our clients.
360% Increase in Adwords Click Through Rate
We're experts at increasing click through rates in Google Adwords accounts. Click through rate optimization is a critical success tactic for any Adwords account. Improve your CTR and you will improve your Quailty Score--and reduce your CPC's
473% ⬆ in Conversions With on Page Conversion Optimization
Wow—473% increase in conversion with on page conversion optimization. From 1 lead to 12 over a 3 week comparison period. After you've optimzied Adwords you're not done!
Maintaining a +7% CTR over 64k Impressions & 5k clicks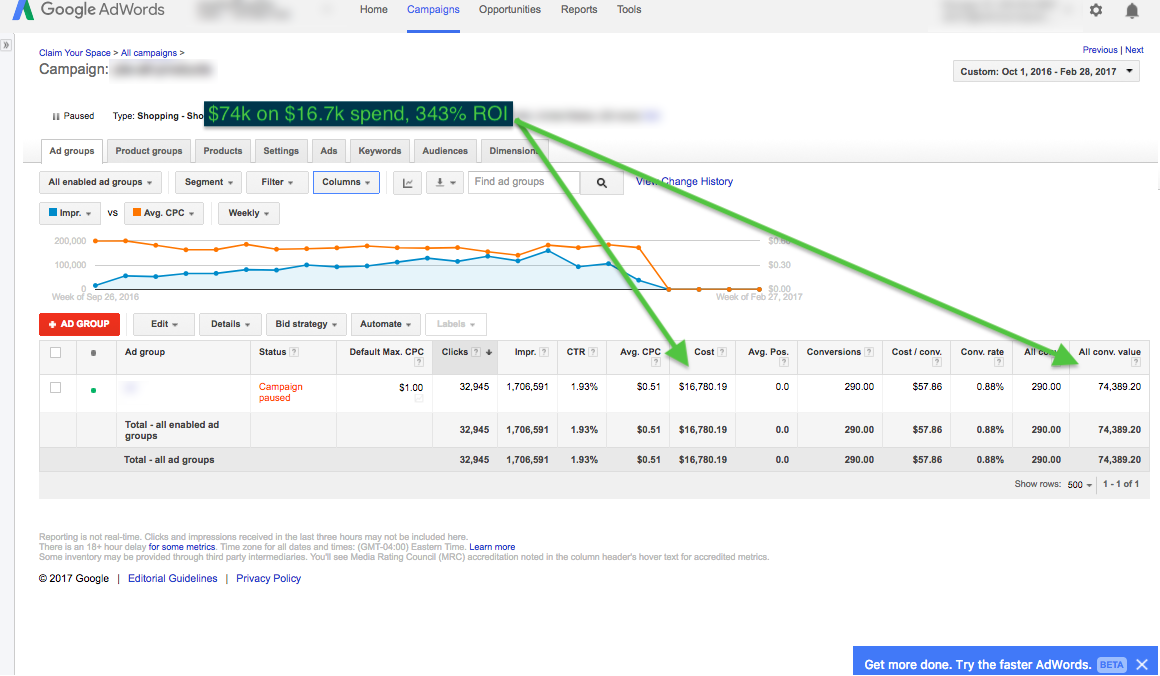 343% ROI on Shopping Ads
Data from seasonal PLA campaign, starting in November and running through February. Last year we hit $76k on about $16k ad spend for 343% ROI. Target is +4:1 this season. That's also just single transaction data, not taking into account any sales that happened in other sessions, or offline (aka via phone call).
14 Consecutive Months of Rising CTR in Adwords
All-Time-High CTR + All-Time-Low CPC for Plastic Surgery Client
60% Decrease in CPC, 287% Increase in Sessions
480% Increase in Organic Traffic with Link Building Campaign
72% Increase in 4th Quarter, Year-Over-Year Organic Traffic
74% Increase in Revenue Year-Over-Year
74% Increase in revenue year-over-year, 2017 to 2018, adding +$120k over 2.5 months.